10 Most Feared NBA Players Of All-Time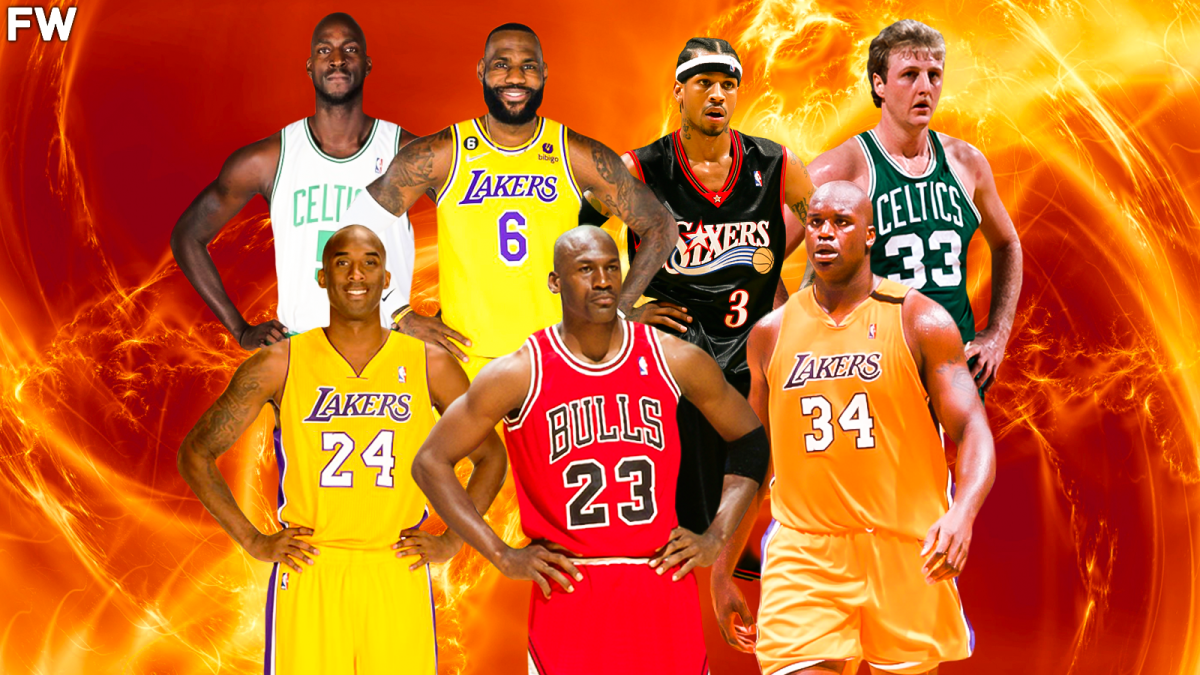 Almost every NBA player has some form of competitiveness, whether we see it outright or not. The NBA is probably the most competitive league in the world, as the best athletes compete with each other on a nightly basis on the road to the NBA Finals. NBA superstars are held in the highest regard, however, as they can singlehandedly steer the course of a team's success and generate the most money and fame as a result. Along with competitiveness, perhaps the trait that most fans, media members, and NBA players immediately notice is intimidation. Specifically, some players cause opposing players and coaches to have nightmares about them before playing them the night before.
The player who has been in the news in terms of being feared is none other than LeBron James. The King has been somewhat slandered (as usual) in recent times, as fans, former players, and analysts are constantly claiming that the player was never feared at any point during his career. How could a 4-time NBA champion and 4-time MVP not be feared? A former teammate of LeBron James, Mario Chalmers, made some very eye-opening comments that LeBron was never feared. Of course, that led to widespread debate among analysts and fans about if that is true. Amazingly, Chalmers is not the only one to have stated this claim, as former players compare James to other star players such as Michael Jordan, Kobe Bryant, and even Kevin Durant when trying to downplay LeBron's intimidation factor. Was LeBron actually never feared? Let's find out.
Other than finding out where LeBron ranks among the most feared players ever, which other superstars were or are truly feared? We have seen many great players who preferred to enjoy their money and stats without worrying too much about intimidating other players. But we have also seen some of the fiercest competitors to have ever played professional sports compete in the NBA. We have collected a list of ten players who were absolutely feared in almost every game they played in, whether that came down to physical domination, clutch scoring, or sheer dominance.
As a result, it is time to rank the top 10 most feared NBA competitors in NBA history.
---
Honorable Mention
---
Stephen Curry
Stephen Curry, at 6'2" and 185 lbs, is one of the most feared NBA stars ever. How is that possible? The point guard can literally shoot teams out of the building, and along with his partner Klay Thompson, he can build a 10-point lead in just a few possessions. As expected, Steph completely changed the game, and every team right now is causing what Curry and the Golden State Warriors are doing every night.
That isn't just respect, it's complete fear of Curry and his elite shooting ability. Steph is the all-time leader in 3-pointers made and is continuing to build his legacy as an all-time great shooter because he even ranks first all-time in terms of career FT percentage. Just based on his shooting ability alone, teams feared Curry and have copied his style of play with regard to team offense as well.
---
10. Allen Iverson
Allen Iverson is one of the most feared NBA players of all time, which was amazing because he was barely 6'0" tall and was extremely thin at 165 lbs. The combo guard looked like any average pedestrian when seeing him in clothes, but as soon as he stepped foot on an NBA court, he was transcendent. Supremely gifted with handles and speed, Iverson was one of the game's greatest scorers, as he won four scoring titles and an MVP award.
Iverson was fearless despite being undersized, and that, in turn, made him feared. Opposing coaches knew they had to plan days in advance of playing him because he needed to be stopped by an entire team. Remember, The Answer led the Philadelphia 76ers to the NBA Finals in 2001 almost singlehandedly and even stole Game 1 against Shaquille O'Neal and the Los Angeles Lakers by scoring 48 points. The amount of respect that Iverson generated on and off the court was incredible because of his grace, impact, and style, and that made him even more feared when he had the ball in his hands. Whether it was at the beginning of the game or crunch time, opposing teams were geared to stop him because his scoring ability was truly transcendent.
---
9. Kevin Garnett
Kevin "The Big Ticket" Garnett was the modern-day Larry Bird in terms of being an elite trash-talker and competitor. KG knew most players he played with or against lacked his drive to be great and used that against everyone. Garnett dominated on defense, winning a Defensive Player of the Year award and making 12 All-Defensive Teams. Whether he was an MVP player for the Minnesota Timberwolves or a defensive stopper for the Boston Celtics, Garnett impacted the game as a top-5 power forward ever.
Garnett's impact did not only come through trash-talk, as he was perfect on both ends of the floor as a passer, scorer, rebounder, and defender. KG was not an easy player to prepare for because he did everything so well and always wanted to back it up. The power forward was capable of literally demoralizing opposing players, and that made him one of the ten most feared NBA players of all time.
---
8. LeBron James
Saying that LeBron James was or is not feared is ridiculous, even the NBA coaches debunked that theory. Sure, he is not the most cold-blooded killer and is more of a team-first type of player rather than an individual killer like Michael Jordan. The arguments against James not being feared come down to the fact that he was more of a Magic Johnson playmaker type who uplifted his teammates rather than made everyone quiver in their shoes. That might be true, but make no mistake, The King was an unstoppable force in his prime.
The King, at 6'9" and 250 lbs, is the most impressive physical specimen the game has ever seen. He was capable of carrying his team to the NBA Finals every year, and especially when playing in a weaker Eastern Conference, James' Miami Heat and Cleveland Cavaliers teams were intimidating. LeBron is the greatest driver of the basketball we have ever seen, and even at 38 years old, he is an immovable force. Based on his athleticism, basketball IQ, and sheer dominance, LeBron James has absolutely been feared over his career.
---
7. Moses Malone
Moses Malone seemed a lot larger than he actually was, as he was quite undersized at 6'10" and 215 lbs when he played against much bigger players. Moses Malone is easily the best offensive rebounder in the history of the league, and opposing coaches knew it would be a tall task to battle him in that regard. When playing against Malone, it was just unpleasant. The big man would sweat as soon as he moved an inch, and was extremely exhausting to play against because he would bounce up and down to grab offensive rebounds time and time again.
Moses was a true force in the paint, and he is easily one of the top-25 players to have ever played the game. The 13-time All-Star ended up becoming a first-ballot Hall of Famer upon his retirement because of his tenacity and impact in the paint. A player knowing he had Moses to handle would almost be depressed because getting him to stop rebounding the ball would be almost impossible, and he was feared as a result.
---
6. Bill Russell
Bill Russell was somewhat undersized as a center, at 6'10" and 215 lbs. Russell's style of intimidation is unlike most of the other styles of intimidation throughout history because he was not much of a go-to scorer and preferred to play a team-led type of game. However, when it came to winning time, Russell took his game to an entirely different level. If you need proof of that, look at the center's 11 championship rings.
Anytime a player can go 11-1 in the NBA Finals en route to 11 NBA championships, he must have been feared. Russell knew how to defend the lane, block shots, and be a playmaker out of the post to help his side win. Perhaps no athlete in sports history had more success on a team level than Bill Russell, and opposing teams knew he would come up big in the biggest moments time and time again.
---
5. Larry Bird
Unsurprisingly, Larry Bird appears on this list in the top five. Bird was probably the greatest trash-talker ever, and his insane competitiveness led him to make a mark on NBA history forever. There was never a player with such limited athletic ability who talked the most trash, like Larry Legend. That just goes to show you the intense competitiveness and confidence in his game, and he is currently regarded as a top-two small forward ever.
Larry Bird was a clutch performer and a leader for the sport of basketball, and his competitive drive ranks among the top three ever. Defenders and opposing coaches feared Bird because of the fear he struck into players' hearts night after night. Larry would literally tell defenders what he would do on the court and proceed to do it. It was exhausting playing Bird every night because they would be in for a physical and mental battle that they never saw before.
---
4. Kobe Bryant
Kobe Bryant was not the biggest guy, but boy, he embarrassed opposing teams when he got going. Bryant was an obsessed winner and competitor, something that is rare to only a few individuals in NBA history. There probably wasn't a player in history who worked on his game more than Kobe, and he did not have a single weakness in his game. When it comes to creating a perfect shooting guard, Kobe was it.
As usual, intense competitors are often labeled selfish, and Kobe lived with that criticism throughout his career. But any criticism or doubt that Kobe faced would fuel him to be the best player he could be, and he will be forever known as one of the most competitive athletes we have ever seen. His five NBA titles and the record amount of game-winners sit nicely on the resume of the Hall of Fame Laker. The closest thing to Michael Jordan, Kobe was known to rip opposing players' hearts out, and opposing coaches knew they would have no answer for the shooting guard if he was in his rhythm.
---
3. Wilt Chamberlain
Wilt Chamberlain is the man who owns the record books, as the only man to score over 81 points in a single game and has the record with 100 points in a single game. What about the fact that Wilt posted 22.9 RPG for his career and had 10 seasons posting at least 20 RPG? Chamberlain was the original dominant force in the NBA, and there was simply no answer to him in his prime. The superstar center won seven straight scoring titles to start his career, and just look at these numbers (50.4 PPG, 44.8 PPG, 38.4 PPG, 37.6 PPG, 36.9 PPG, 34.7 PPG, and 33.5 PPG).
No other player in NBA history could put up these numbers year after year, and that was because he was bigger, stronger, and more athletic than anyone else. Guess what? Wilt was also extremely feared. The big man stood 7'1" and weighed 275 lbs of pure muscle, so he was physically superior to everyone else. Defenders facing Wilt knew they would get utterly embarrassed on the court and on the stat sheet night after night, and he is easily one of the three most feared NBA stars of all time.
---
2. Shaquille O'Neal
Nobody would even think or even utter that they weren't fearful of Shaquille O'Neal. Shaq was absolutely dominant in his prime, winning three straight NBA titles and three Finals MVPs as a member of the Los Angeles Lakers. Between the 2000 and 2002 seasons, perhaps we have never seen a more dominant player on a physical level on both ends. Sure, Shaq was a goofy figure off the court and actually a very loveable guy, but he was a monster on the court and was just scary to look at.
The superstar center was 7'1" and 320 lbs, and the look on his face when he had the ball in the paint was absolutely horrifying. O'Neal could score the ball anytime he wanted, dunking it over helpless defenders or using his efficient hook shot. Even as early as his rookie campaign, Shaq was a beast by winning Rookie of the Year by posting 23.4 PPG and 13.9 RPG. If it wasn't for O'Neal's complete lack of free-throw efficiency (52.7% career FT) and his inability to work hard to stay in shape for longer, he would easily be number one on this list, but he is still behind one man.
---
1. Michael Jordan
Who else would be number one? Michael Jordan is simply the most feared athlete in the history of team sports. As driven and maniacally obsessed with winning as guys like Kobe Bryant and Larry Bird were, Jordan was a notch above because it came perfectly naturally to him. MJ was as real and authentic as you can get, and this is why his impact on the game will be eternal. Whether it was scoring the ball, playing defense, or making clutch plays, opposing teams always knew they were in for a very long night when the superstar shooting guard played the game.
Michael was not only the most skilled player ever and one of the most physically gifted, but his intense competitiveness and desire to crush all competition led him to a perfect Finals record and a whopping 10 scoring titles. When the Bulls superstar played, he wanted to leave no doubt that he was the best scorer and best overall player who would win no matter what. It is hard to argue with the results, as Michael will forever be the most competitive basketball player ever and the only player that retired without coaches and players having a single answer. There is no doubt that the greatest player of all time is the most feared, ahead of some very intimidating players that came before and after him.